Unique Student Identifier (USI)

What is a USI?
The Australian Government is implementing a mandatory unique student identifier (USI) system for all participants who are undertaking nationally recognised training from 1st January 2015.
A USI account will contain all of your nationally recognised training records and results from 1 January 2015 onwards. One of the main benefits of the USI is that you will have easy access to your training records and results throughout your life.
Do I need a USI?
You will need a USI when you enrol or re-enrol in training from 1 January 2015 if you are a:
 student enrolling in nationally recognised training for the first time, for example if you are studying at TAFE or with a private registered training organisation, completing an apprenticeship or skill set, certificate or diploma course;
school student completing nationally recognised training; or
continuing student* with nationally recognised training.
You are a continuing student* if you are a student who has already started your course in a previous year (and not yet completed it) and will continue studying after 1 January 2015.
Note: All students enrolling in a course provided by Red Earth Training will require a USI.
What happens if I don't have a USI?
You can attend training and participate in assessment activities, however a Registered Training Organisation (RTO) cannot issue a Certificate or Statement of Attainment to a participant who does not have a USI so it is essential for you to have a USI prior to the completion of your course.
How do I get a USI?
It is free and easy to create your own USI online. You will need to supply your USI number to the trainer at the commencement of the course. If  for any reason you are unable to obtain a USI please call our office on 0419881151 asap prior to the training.
How do I apply for a USI myself?
Type www.usi.gov.au into your web browser.
Step 1: You MUST have at least one form of ID from the list below ready:
Driver's Licence
Medicare Card (this includes a current family Medicare card where your name is included)
Australian Passport
Visa (with a non-Australian Passport for international students)
Birth Certificate (Australian) * please note a Birth Certificate extract is not sufficient
Certificate Of Registration By Descent
Citizenship Certificate
ImmiCard
IMPORTANT: The details you enter when you create your USI must match exactly with those shown on the form of ID used.
If you have no form of ID from the list above, please contact Red Earth Training for further assistance.
Step 2: Click on 'Create your USI'.

Step 3: Read & agree to the terms and conditions.
Step 4: Fill in your personal and contact details.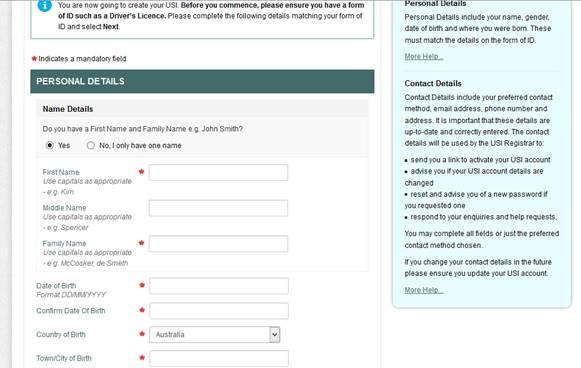 Step 5: Enter the ID document type & requested details as shown on your form of ID (see list of ID above).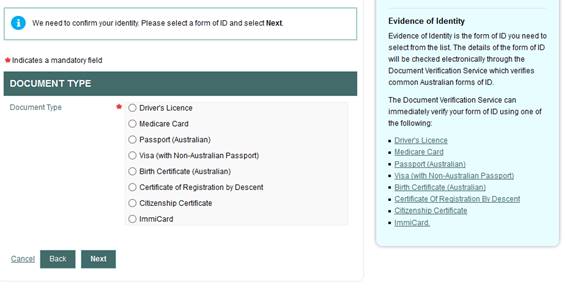 Step 6: Set your USI account password and  questions for security.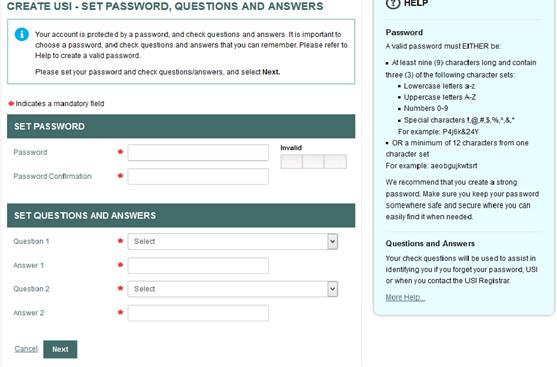 Step 7: Your USI will now be displayed on the screen.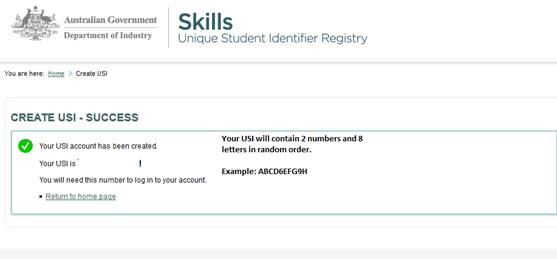 Step 8: You should write down your USI and keep it in a safe place.
Step 9: You should receive a copy of your USI via email, phone or mailing address (which ever you chose as your preferred contact method when creating your USI).
Step 10: You will need to provide your USI each time you enrol in a VET course.
If you have any difficulties obtaining a USI or if you have any questions regarding USIs, please don't hesitate to contact the Skilling Australia Information Hotline on 13 38 73 for further assistance.
Or
As part of your enrolment in nationally recognized and/or accredited courses, a Unique Student Identifier (USI) is required.  Without a USI, we will not be able to issue you with your certificate or Statement of Attainment.
You can click on the link below to download more information about Unique Student Identifiers.
Unique Student Identifier (USI) Fact Sheet
Click here to redirect to the www.usi.gov.au website
---